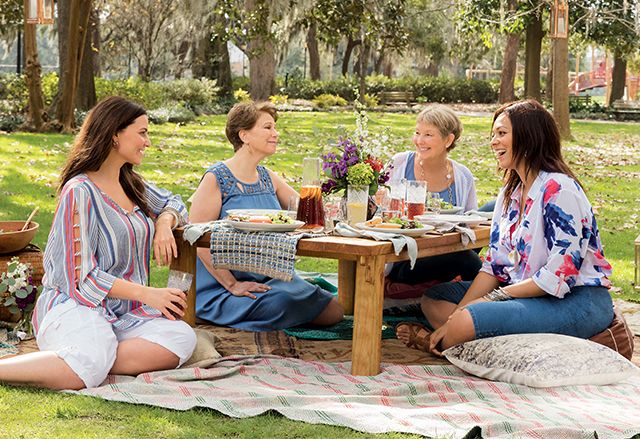 This Mother's Day, we're celebrating the powerful bond between mothers and daughters. Here, Catherines models Julie and Erin — and moms Connie and Jo Ann — share insights on life, love, shopping and why these mother-daughter duos are so much better together.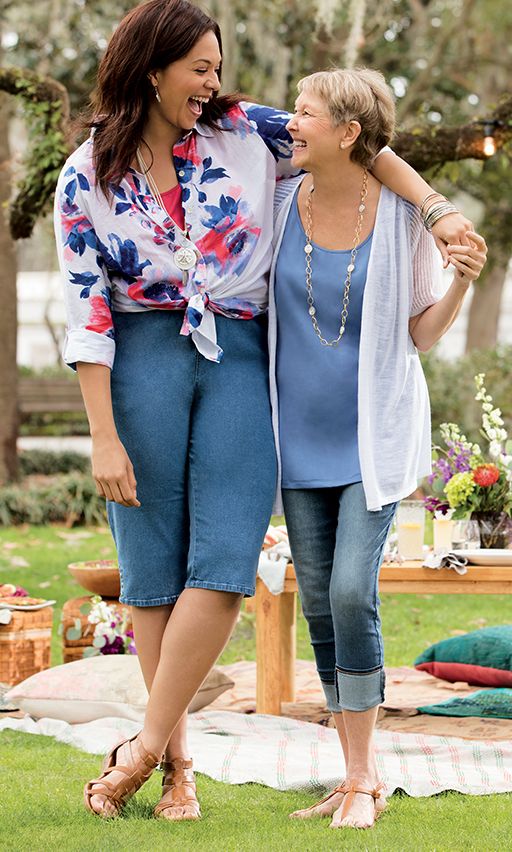 Julie + Connie
MUCH LOVED MEMORY
Julie was a great athlete. She played many sports, but especially excelled at basketball. Connie loved being part of the experience and often provided snacks and even dinner for the entire team. "I had practice every day after school," says Julie. "My mom would bring pasta and other snacks for everyone. I appreciated it back then, but now as an adult, I realize how much effort went into cooking for my whole team, especially with three other children at home. Amazing."
FAVORITE THING TO DO TOGETHER
Christmas was always a special time for Julie's family of six, especially Christmas Eve. Each year, Julie and her siblings would take their mom shopping, have dinner at a favorite restaurant and catch a movie. "I always hated shopping," says Connie. "Thankfully, Julie loves it and has a really great eye. She was always much better than I was at picking out styles for me, even as a young girl. I was surprised at how good she was!"

HOW THEY COMPLEMENT EACH OTHER
As a professional model, Julie loves expressing herself with fashion.
"I look for clothes that fit me and who I am," says Julie, "and I enjoy helping my mom find clothes that express who she is." Connie, a nutritionist, guides her daughter with suggestions about vitamins and healthy eating. "So we complement each other in interesting ways: I focus on well-being from the inside out though nutrition, and Julie shows me how to build confidence from the outside in through fashion."
GREATEST STRENGTHS
Julie and her mom share a deep mutual admiration. "I think Julie's greatest strength is her willingness to be open to what's true," says Connie," to make changes as her opinions evolve and to keep an open heart." Julie talks about her mom's greatest strength as being loving, kind and brave. "Mom gave me every bit of love she had," says Julie. "And anything she didn't give me was a gift, because I needed to learn it for myself."
WHY THEY'RE BETTER TOGETHER
Like many mothers and daughters, Julie and Connie have different likes and dislikes. But they come together where it counts. They both believe that honest, open communication and a willingness to see each other's viewpoint keeps them close. "I feel honored to have this incredible human being as my daughter," says Connie. "Our hearts are in a similar place, wanting to be better and make the world a better place."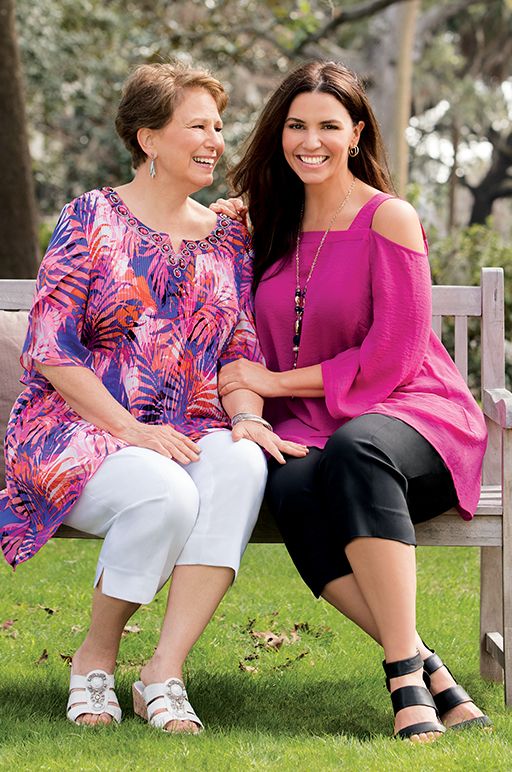 Erin + Jo Ann
MUCH LOVED MEMORY
Both Erin and her mom have treasured memories from Girl Scout camping. Jo Ann was active in Erin's Girl Scout troop, and although selling cookies was always fun, camping was their favorite. Says Jo Ann, "Hobo stew, s'mores, campfires and sing-alongs probably paved the way to our love of the outdoors."
SPONTANEOUS ADVENTURE
One night in December 2015, Erin texted Jo Ann with a question: "Mom, want to come meet me in Sweden for the next three days?" After scrambling to adjust her schedule, take time off work and make flight arrangements, Jo Ann was on her way to Stockholm. "What an adventure," says Jo Ann, "I loved walking around that beautiful city, enjoying gourmet treats and experiencing all Sweden had to offer. But the best part was having Erin to myself for three whole days."
FAVORITE ACTIVITIES
Erin and her mom have many activities they enjoy together, including "shopping, family get-togethers, working out, annual ravioli-making, holidays, cooking, and quality time discussing world events."
HOW THEY COMPLEMENT EACH OTHER
Mom and daughter agree on certain traits they share: kindness, compassion, open-mindedness and a desire to improve the world. But they also benefit from their differences. "My mom doesn't usually like to be spontaneous," says Erin, "while I love to spot an opportunity and take action. So I push my mom to seize the day, while she encourages me to look before I leap."

WHY THEY'RE BETTER TOGETHER
Erin goes first: "My mom is the most loyal and genuinely kind person I know," she says. "I think I've become a kinder and more giving person because of her. She's so generous and she's taught me to be the same."
Jo Ann says that Erin makes her look good, not just because she helps her shop, but because she's a kind, loving woman. "For me, we're better together whenever she's by my side."