A note to you,
As COVID-19 continues to impact our communities and world, I want to take a moment to share the changes we are making in our stores to support our customers and our associates. In this challenging and uncertain time, our strength comes from how we care for each other.
For the well-being of our store associates and customers, our stores are closed temporarily. We will keep you informed as our stores reopen.
We look forward to serving you with Styles That Love YOU on Catherines.com with free shipping to your home on orders of $49 or more PLUS free returns.
Additionally, we are dedicated to making your shopping experience as flexible as possible and are temporarily updating our return practice for all purchases in stores or orders placed online from February 1, 2020 or later until further notice, in the following ways:
Have a store purchase you need to return to a store?
We are suspending the 30-day return period in our return policy for in-store purchases that are required to be returned in stores and will accept your store purchase return for a period of time to be announced later after our stores reopen. Subject to the other terms of our return policy, we will honor your in-store return in the original form of tender at original price paid with your original receipt, until further notice.
Have an online return you usually take to stores to return?
If you wish, you can take advantage of our FREE online returns for US orders and mail back to our fulfillment center, or wait until our stores reopen.
Have an online return?
We are offering FREE mailed returns of online US orders. Simply click here to start the online return process.
Please see our Customer Service section for FAQs and more information on returns and exchanges.
Thank you, as always, for your continued support. Stay safe. Together, we will get through this.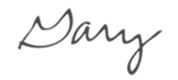 Gary Muto
Chief Executive Officer